Written by Andrew Kneeland | 17 January 2011

9. Ben Revere, outfielder, 22 years old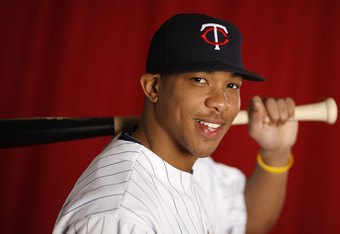 (courtesy bleacherreport.com)
2010 stats: .305/.371/.363 with 41/32 K/BB in 94 games for New Britain (Double-A), .179/.233/.179 with 5/2 K/BB in 13 games with Twins
Last year's rank: #3
Acquired: Drafted by the Minnesota Twins in the 1st round of the 2007 June Major League Draft.
Revere takes a significant fall on this list not because of a poor performance last year, but because so many others have made positive strides. The Twins' 22-year old outfielder continued to dominate opposing pitchers in 2010, with an on-base average of .371 displaying his incredible plate discipline. Revere also maintained a high batting average, and ranked among the league leaders in the category.
While Revere seems to have those aspects of his game figured out, his power has yet to manifest itself. Long-hailed as having "raw power," Revere hasn't hit more than two home runs in a season. I can be fairly confident when I predict that Revere will never be capable of hitting double-digit long balls in the big leagues, but that only slightly sours my opinion of him as a prospect.
Revere posted his fourth consecutive season with a batting average of at least .300 last year, and is an excellent contact hitter. His on-base percentage was also outstanding for the fourth straight year, and Revere's skill set is becoming more and more clear. If you need someone to get on base, Revere's your guy.
Injuries forced the Twins to give Revere playing time in 2010, prematurely giving the outfielder a harsh trial by fire. Revere isn't ready for big-league pitching, and the Twins won't feel the need to rush him.
Ideal scenario: Revere will be sent to New Britain again in order to finish a full season against Double-A opposition. About half-way through the season Revere will be promoted to Rochester, where he will play for the rest of the year and possibly to start 2012.
Path to the majors: Like last year, the Twins could find themselves desperate for an athletic outfielder late in the season. If that's the case, Revere will earn another September call-up and be given another chance to show off his great on-base skills. Left alone in Rochester, though, Revere could finish the season with the Red Wings. Whether or not he's called up to the big leagues this year, though, Revere should find himself on the 25-man roster for the 2012 season.