Written by Andrew Kneeland | 25 January 2011

4. Joe Benson, OF, 22 years old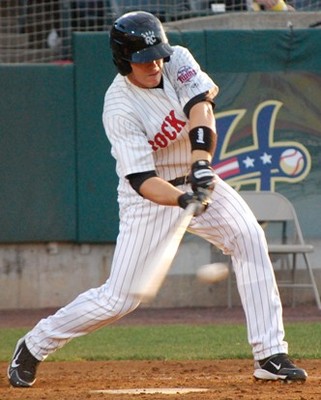 (courtesy bleacherreport.com)
2010 stats: .259/.343/.538 with 47/136 BB/K and 27 home runs in 123 games between Fort Myers (A+) and New Britain (AA)
Last year's rank: 9
Acquired: Drafted by the Minnesota Twins in the 2nd round in the 2006 June Major League Draft.

Benson was given the Sherry Robertson Award by the Twins this year, which recognizes the top hitter in the minor leagues. Even though Benson was demoted mid-season, his performance still merits such an award, and the progress he has made in the power department is very encouraging.
Hitting a total of 27 home runs and maintaining a slugging percentage well north of .500, Benson is starting to turn his "raw" power into actual production. His fourth full-season in the minor leagues, this year was the first Benson topped digits in the home run department. In fact, his slugging percentage didn't even top .400 over a full season. This year was clearly a huge step forward for the young outfielder, though there are still aspects that need work.
With a painful 2.94 strikeout-to-walk ratio still to his name, Benson whiffs far too often. He averages .26 strikeouts per plate appearance, which is nearing the range of Arizona's Mark Reynolds. Without more instruction, Benson would be a candidate to break several strikeout records if he were facing major-league pitching.
Plate discipline aside, Benson is excellent in areas other than raw power. His speed is top-notch, as is his defensive range.
Ideal Scenario: Benson spends the 2011 season between New Britain and Rochester, learning to better identify breaking balls and improving that strikeout tendency.

Path to the majors: With Cuddyer leaving after this season, there is a huge hole in the outfield. Benson is the leading candidate to step into the veteran's shoes, and it will be nice to have someone with at least some shred of defensive ability in right field.