Written by Andrew Kneeland | 08 February 2011

1. Kyle Gibson, 23 years old, starting pitcher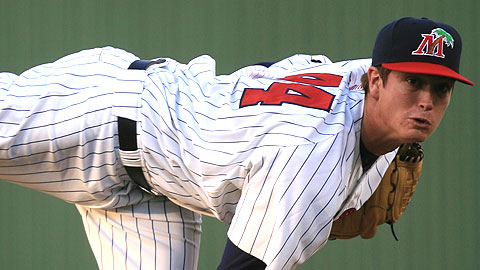 (courtesy aarongleeman.com)
2010 stats: 11-6, 2.96 ERA in 152 innings, with 126/39 K/BB between Fort Myers (A+), New Britain (AA), and Rochester (AAA)
Last year's rank: N/A
Acquired: Drafted by the Twins in the 1st round (22nd overall) of the 2009 MLB June Amateur Draft
The Twins' selection of Gibson in the 2009 draft was a microcosm of the successful strategy that has helped them compete over the last decade. Gibson was a problematic draft prospect, with lingering arm problems that caused just about every other team to pass on the starting pitcher from the University of Missouri.
Minnesota, usually one of the most risk-adverse teams in the league, couldn't pass up Gibson's polish and four-pitch potential. The Twins deemed his forearm problems were deemed to be a minor concern, and Gibson proved them right by performing very well in 2010.
That Gibson signed late caused him to miss the 2009 season, though the rest was probably exactly what his arm needed to recuperate.
Gibson started the 2010 season in Fort Myers, hoping to adjust to wood bats and work out any mechanical problems the Twins thought should be fixed. After a few months in Florida, Gibson advanced to New Britain, where his dominance continued. He finished the season in Rochester, and remains just a short jump away from MLB action.
With four legitimate "plus" pitches, according to scouts, even the most pessimistic of prognosticators can't see Gibson as anything less than a mid-rotation starting pitcher in the big leagues. His ceiling isn't as high as some of Minnesota's younger prospects, but Gibson earns the top spot on the TwinsTarget Top 15 Prospect list this year because of how certain we are he will be a great starting pitcher.
Ideal Scenario: Gibson will spend a great deal of the 2011 season with the Rochester Red Wings, further showing off his ability to induce ground balls.
Path to the majors: There are plenty of prospects ready and willing to make the jump to the big leagues, but the Twins will only call upon pitchers they feel are ready and completely developed. Gibson highlights that crowd, and should be among the first promoted to help bolster an ailing bullpen or rotation in 2011.