Written by Andrew Kneeland | 19 August 2010

Brought on to solidify a somewhat-shaky bullpen, Matt Capps hasn't exactly received a hero's welcome in the Twin Cities.
In fact, Twins fans seem to think the 26-year old closer is a liability when pitching in high-leverage situations. Capps has been suffering through a poor stretch lately, though these last five games hardly give enough reason to worry.
Opponents are batting an incredible .409/.435/.636 against Capps in his last five relief appearances – each in the ninth inning. Minnesota has managed to win each of these games, but it is clear that Capps is struggling to get batters out.
My guess: Capps has struggled recently to release pitches with his usual "zip," which has made his offerings infinitely more hittable. Give him some time to recover and settle down, and Capps will be every bit as good as he ever was.
And yes, Capps is a good closer. Don't let these snap-judgements from Twitter have too much influence on you: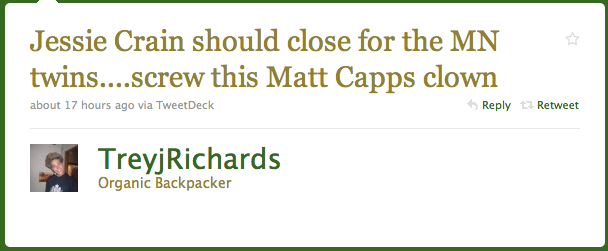 Capps suffered through sky-high BABIP and home runs per fly ball marks last season, which had a dramatic impact on his ERA. This year Capps' BABIP and HR/FB are both regressing to give us a real-life application to what sabermetricians preach. As a result, his ERA (though an awful stat compared to alternatives) has dropped significantly.
With an increased ground ball percentage, and a significantly lowered fly ball and walk rate, Capps will make Minnesota a better baseball team. And there's no denying that, despite what some will tell you.
As I was watching the game last night with my TweetDeck screen open, I realized how far Twitter had advanced in the cynicism department. I'm all for microblogging, and, for the most part, love how Twitter has impacted the Internet.
But I can only take so many knee-jerk reactions. I'm obviously biased, as the majority of people I "follow" are Twins fans, but I haven't found a fan base with the despondency of Minnesota's. I could screen-grab tweets of rampant pessimism all day, but here's one @FanaticJack sent a few days ago: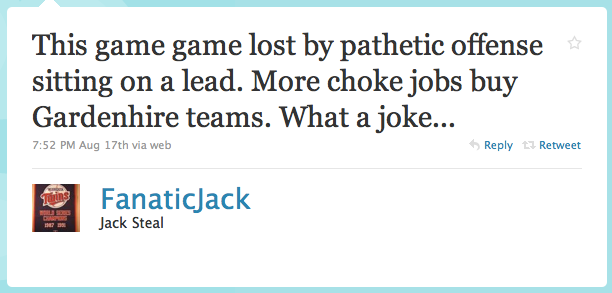 This is utterly baffling to me. There isn't a shred of truth in this tweet. Minnesota won that game, and have one of the best offenses in baseball by just about any measure. Not all fans are at (or have yet to reach) Jack's level, but I'm seeing more and more tweets like the one above from people who I think are reasonable people who understand the important of context.
I have no doubt that you, faithful readers, realize that a single strikeout with runners on second and third doesn't erase all past performance and transform you into an awful player. (Right?)
Twitter has become a medium for instant reactions, for better or worse. I love using Twitter to read and react to various things, and there are certainly smart and funny people worth following on the social media giant, but keeping my Twitter stream open during a game has almost become a painful activity.
I realize people have always thrown remotes and yelled at umpires, but there's no reason I should be forced to watch these explosions in the form of badly-constructed sentences.
Twitter during the game is no longer an acceptable combination in my house.